Roger Edwards – Lighting Cameraman – Biography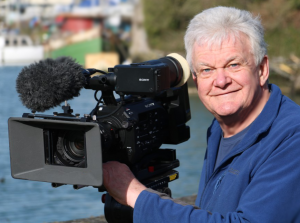 After a grammar school education in Mid Wales I attended Plymouth College of Art & Design for two years and studied all aspects of still photography gaining a vocational certificate of the Institute of Incorporated Photographers. This enabled me to further my studies at Harrow College of Technology & Art where I studied film and television production. On completion I was offered a job as technician at Plymouth Educational Television offering programmes to schools in the city. Soon afterwards I accepted a job as trainee film camera assistant with Westward Television based in Plymouth, at the time, the ITV contractor for the South West covering Devon, Cornwall, Somerset and Dorset.
Working for a small regional company I was able to experience a wide variety of genres from news and documentaries to drama and commercials. I quickly discovered my preference for well produced documentaries which allowed me to exercise my talent in creative lighting which I enjoy.
After my promotion to lighting cameraman I became a freelance in 1989.
I regard myself as an all-rounder and I'm equally at home with the camera on my shoulder "ob doc" style as I am lighting well produced and crafted documentaries and commercials. Lighting is a particular skill which I find very satisfying and people are delighted with the various "looks" I'm able to achieve.
I'm very experienced in filming at sea, both on fishing boats and luxury cruisers and I'm fortunate in that I don't get sea sick! I've held a private pilots licence for the last twenty years and feel at home shooting from helicopters. Below ground I've often filmed in tin mines and tunnels.
I'm proud to be a member of the Guild of Television Camera Professionals, an excellent organisation which promotes the craft of cameramen and women and helps to maintain standards. 
I have lots of energy and enthusiasm and nothing is too much trouble. Being a lighting cameraman has been a passion of mine since the age of fourteen when my parents bought me my first 8mm cine camera. That passion has remained with me and hopefully is reflected in my work.
I look forward to working with you!
Roger Edwards – Freelance Lighting Cameraman lives near Plymouth on the Devon & Cornwall border in the south west of England.